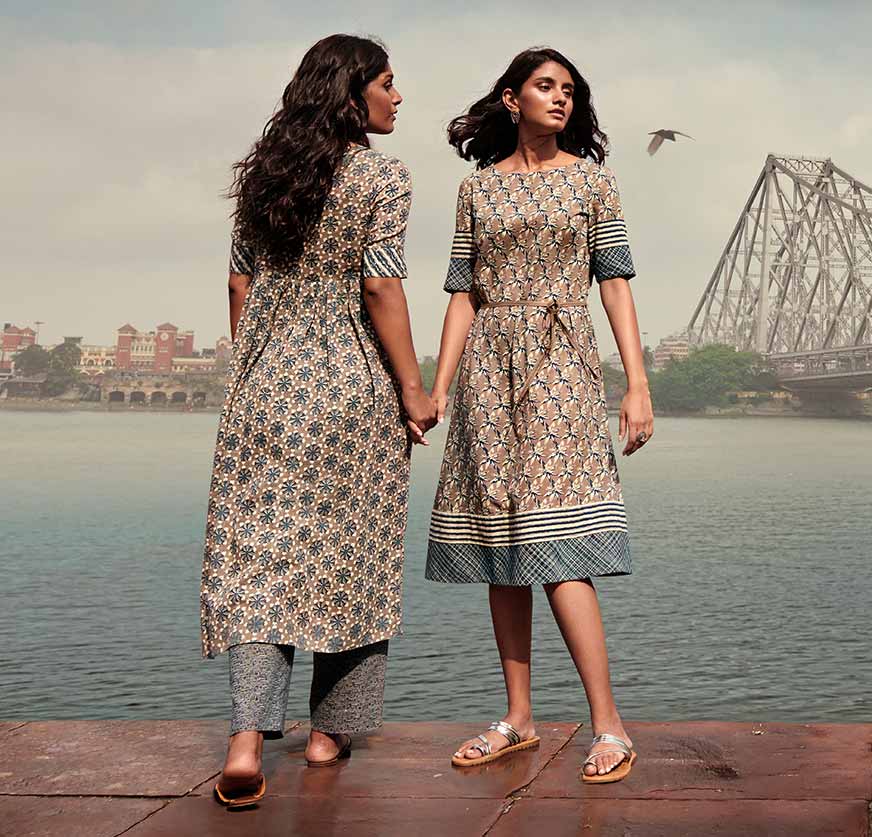 26 Nov

Stylish Office Wear Looks For Females To Stay At Work from the new iconic brand at Galaxy High Street!

Its an obvious fact that we're all caught up with, running between meetings or appointments. You didn't have the opportunity to complete your morning coffee —so there's no way you'll have even an hour to go home and change for your after-office activities. The good news is, there are ways to channel your multitasker's attitude into your wardrobe and make it work for after work. The key is to mix pieces that are both conservative and edgy, and put together looks that can be easily layered for a quick change when you're headed out. In this way, Galaxy High road, Vapi launches Women shopping zone "Moda" incorporating top-notch quality style brand outlets Fab India, Ritu Kumar, Label Ritu Kumar, Biba, and Chère.

These curated Brands provides metropolitan cool outfits that you can go for with regards to killing at work. Remembering the best of the outfits, we have chosen office wear brands for ladies which reflects their characters better make an impression close by. They have everything from semi-formal clothing types to exclusive dresses to make an impression.

Ritukumar:
Ritu Kumar is one of the foremost designers in the Indian fashion industry. Ritu Kumar as a brand appeals to many patrons who are avidly interested in ancient arts and crafts molded into contemporary fashion items. She has pioneered the term 'fashion' in the Indian context and more importantly has demonstrated that hand-made products can be as profitable and even more glamorous than those made by machine. Her product offerings include couture as well as formal prêt accessories. Several international celebrities have also worn and praised her work. Discover the veteran designer's latest collection which is filled with contemporary Indian outfits. Like, Kurtas with asymmetrical hemlines, tunics induced with a boho- chic vibe, printed draped and heavily embroidered palazzo pants and more. So, you can wear this comfortable outfits designs while you are getting ready for office.

Fab India:
It is important for you to maintain the right kind of balance between your perfect fit and your comfort all day long. To help this Galaxy High street added Fab India with excellent scopes of garments. It has made simple for ladies to pick their office looks. Make your all day dressing preppy with printer cotton dresses, tops and tunics, anarkalis, linen pants. Select from interesting scope of handwoven ladies' ethinic wear, kurtas, tunics, skirts, sarees and palazzos at Fab India. You can begin your workday with a slick and smart look. By picking something comfortable wear for example, cotton kurtas. As we are strolling towards summers, they are indispensable. We make a few looks by blending kurtas in with comfy pants. We are trying to make your office time more comfortable with the goal that you can work without any problem. After all, you can work effectively when you are comfortable.

Biba:
Well-fitted clothes always make you look more presentable but make sure they aren't too tight for you. It can be quite hectic to wear such clothes and sit all day long in the office. In any case, While you are home and working two fold by taking care of house errands and day by day office assignments together, we have picked a couple of styles, which you will love to add to your storage closet. They are comfortable, autumn perfect and available online to explore. Biba initially was into ladies' ethinic wear just however it has expanded its item offering and included conventional wear for ladies. Semi formals or for this situation contorted formals are ideal for zoom meetings. The thought is to wear something that looks exquisite without leaving your comfort zone, since you are at home, putting additional amounts of energy doesn't makes any sense. All you need is a keen looking top wear. Play stylish with a lovely chinkankarikurta joined with normal white pants. Enjoy the comfort of cotton, make every day errands simple for yourself.

Chère:
When you are dressing up for a party or even office you always consider the dress you are wearing. Is it comfortable or not? Does this dress looks good for this occasion or not? What's more, numerous other inquiry strikes a chord. In any case, it is similarly imperative to concentrate on your foot wear. To eliminate this strain Galaxy high Street has presented Chère which is an extravagance footwear brand. Style forward and consistently spot on patterns the exceptional and innovative plan for women to grasp their uniqueness. So by this you can finish your look.

Being confident in your office environment and in everyday life is the ultimate key to be comfortable in your skin. Whether you are wearing formal clothing or just pyjamas, you should be confident in whatever you wear and whatever you do. This isn't just about your work but also about the fact that how you carry yourself throughout the day in office. Also, being uncomfortable and under-confident can affect the quality of your work because of a lot of distractions. Galaxy High Street always take care of the needs of the customers that is why, it has launched various fashion brands. So, Enjoy a consistent shopping experience inside a safe climate and an assortment of safe instalment choices, including Visa, credit card and so on and its high time for an outing to the MODA and invigorate your closets.