10 Aug

8 Fresh kurti designs to add In Your Ethnic Wardrobe

Your dressing sense can speak volumes about you. It exhibits your personality and lifestyle. In this fast-growing world, fashion has evolved too. But, the most comfortable and loving outfit of women's wardrobe is Kurti. Kurti is an outfit that has stretched beyond the Indian borders and has evolved down the ages to meet the ever-changing demands of the fashion-forward world. It is a versatile piece of clothing that can be made in order to adapt to any season or occasion. But, one has to keep in mind how the attire has been worn as there are many styles to enhance your clothing. In the case of Kurtis, the color combination, the choice of bottom wear, your overall styling, your accessories are a few things that go into crafting the perfect look. So, I'll let you know about several Kurti designs that should be in your wardrobe.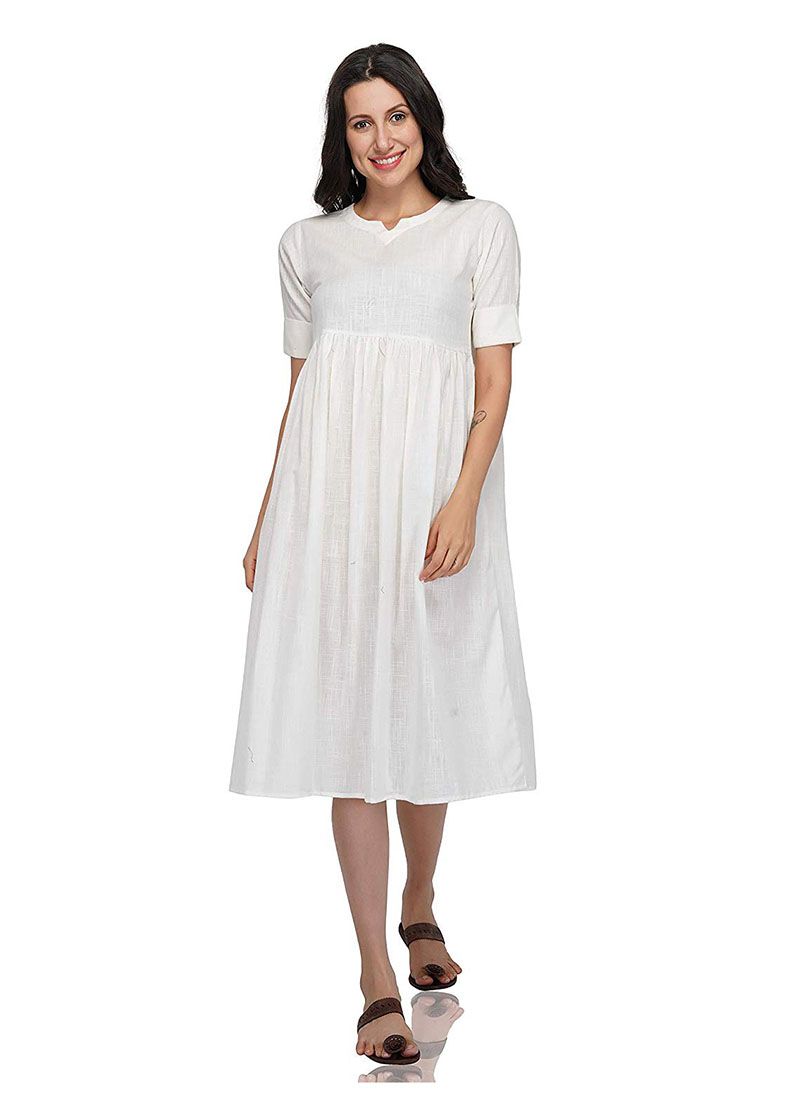 Plain white Kurti
First things first. A white Kurti is a must-have in every Indian women's wardrobe. Not only because itis the most soothing shade out of all the colors but it also denotes peace and purity. Having a white color Kurti or an off-white Kurti comes in handy to create some cool and gorgeous combinations with other colors. While pure white Kurtis is trending now, they look equally good on all body types and are versatile enough to put on from casual occasions to traditional events. Simply style a white Kurti for women with a pair of palazzos pants or even an embroidered skirt to attain an ethnic-chic look. A white Kurti is simple yet chic, and it can never go out of style. Step-up your indo-western game by styling a plain white Kurti with a pair of basic high-waist denim jeans and it looks good on every woman or a girl.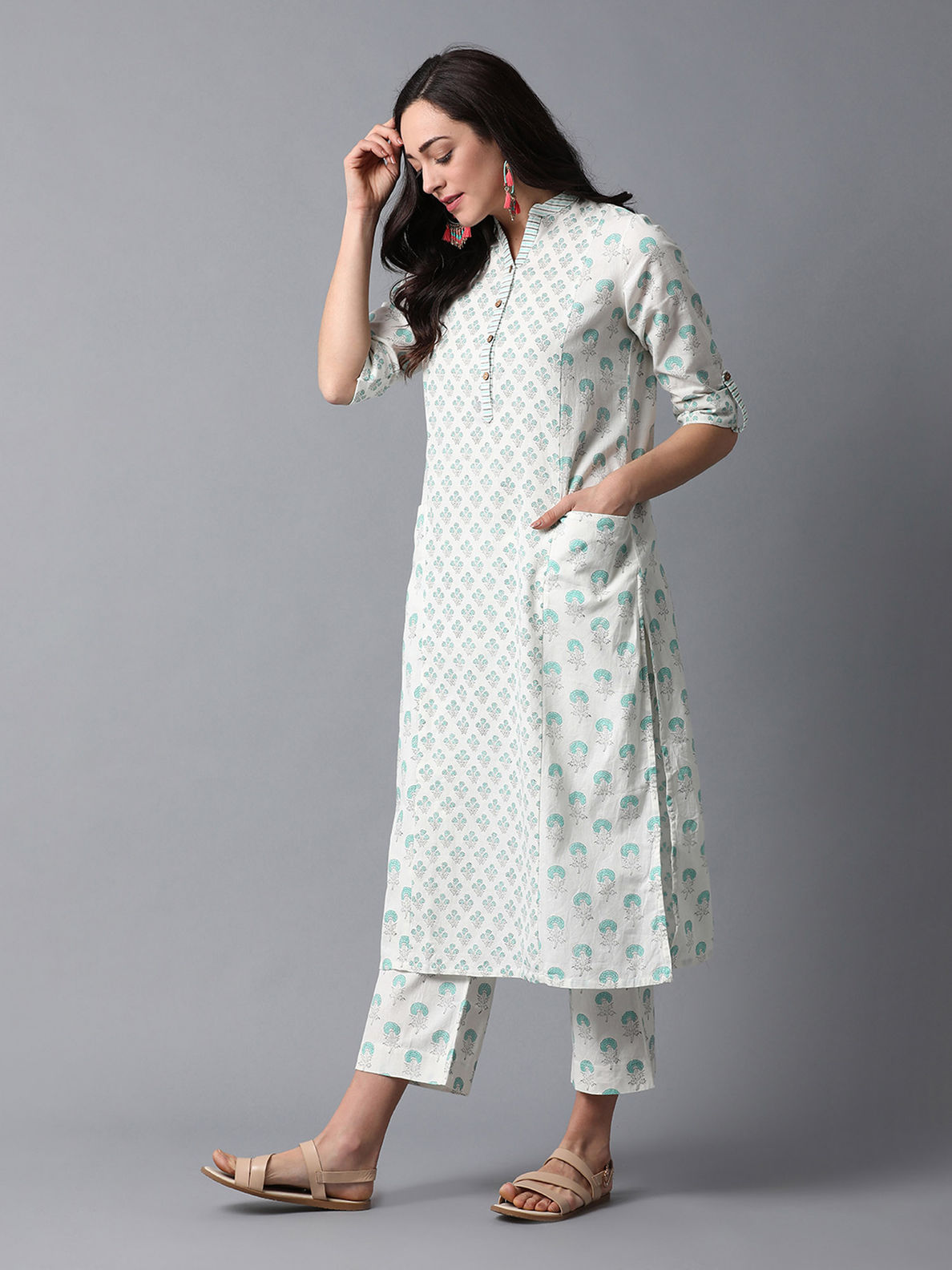 Shoulder Princess Front Pockets Hand block Print Kurti
Exclusively designed hand block printed long cotton flex kurta with turn-up cuff with smart pockets in front for convenience. Sleeping band collar with wooden buttons on functional placket. Kurtis is traditionally worn with salwar and churidars. But, the trend has changed now. You can rock the ethnic look with different types of Kurti combinations. If you want to give a clean and modern look, then opt for well-fitted cigarette pants. The pants give a formal look and thus, you can rock this look while going to the office. Cigarette pants are available in variations like a fitted and comfortable fit. This unique style is cut to fit elegantly around the neckline and lies flat on the torso.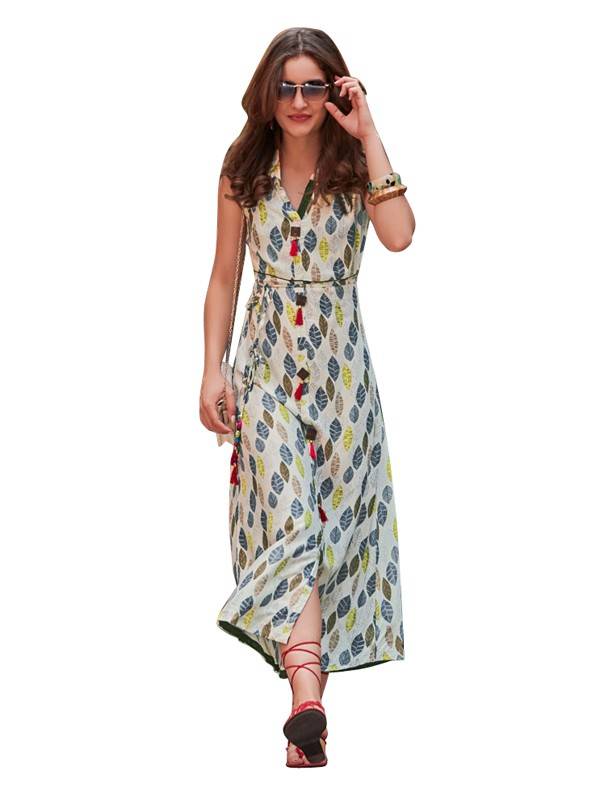 A- line kurti
The A-line Kurti is the type which reaches to the calf or the ankle. It has a spread from the waist area, to make it 'A' shaped panel. These A-Line Kurtis are in high demand amount the women shoppers. You can wear it in Parties or social gatherings which is of casual nature and pair it with jeggings or pants. A-line Kurtis daily wears, college wear, party wear, and formal wear. They can be pair up jeggings, jeans, pants, etc. You can style it up with stud Earrings, jhumkas, dangle earrings, chain pendants, etc.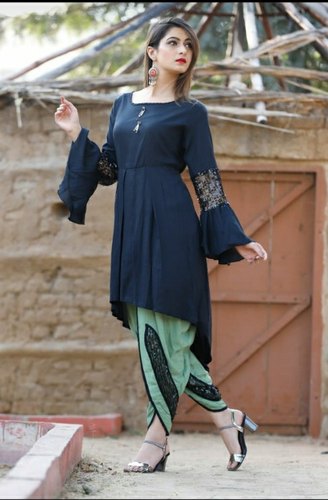 Dhoti style Kurti
We have seen men wearing Dhoti for ages but now women are carrying dhoti style, Kurti, with ease and style. Dhotis are in trend and you will find dhoti sarees, dhoti dresses, and dhoti pants all over the market. Women who love to wear contemporary styles would love to wear this dhoti style Kurti. It is very comfortable as it is loose and makes you stand out in any event. The dhoti style Kurti is really trendy these days, because of the classy hint it adds to the whole attire. Women just love to adorn this thematic Kurtis which has this pattern like the dhoti pants. You can wear it on special occasions.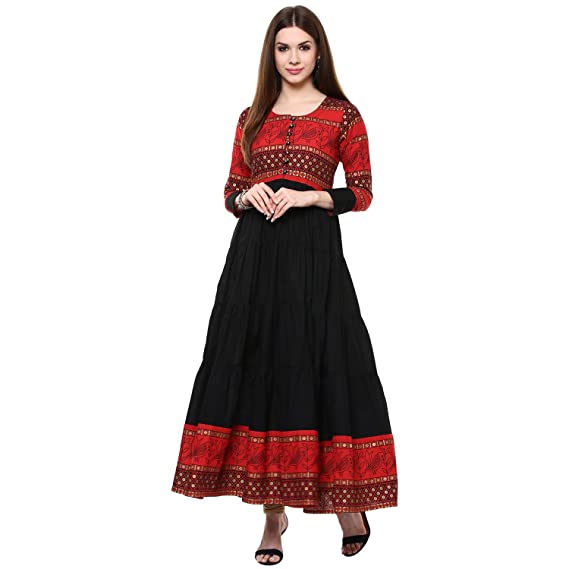 Anarkalis
The Anarkali Kurtis are well preferred by the women folks and are in fashion since ancient times, because of its frocks like pattern and the flares, this is the kind of the Kurti which women with any kind of figures can wear it. Whether it is an hourglass figure or else banana shaped figure. The best part about them is that they come in a variety of prints and embroideries. You can dress up or down with these depending on your mood and the occasion and wear them with full or ankle-length leggings to get the classic outfit!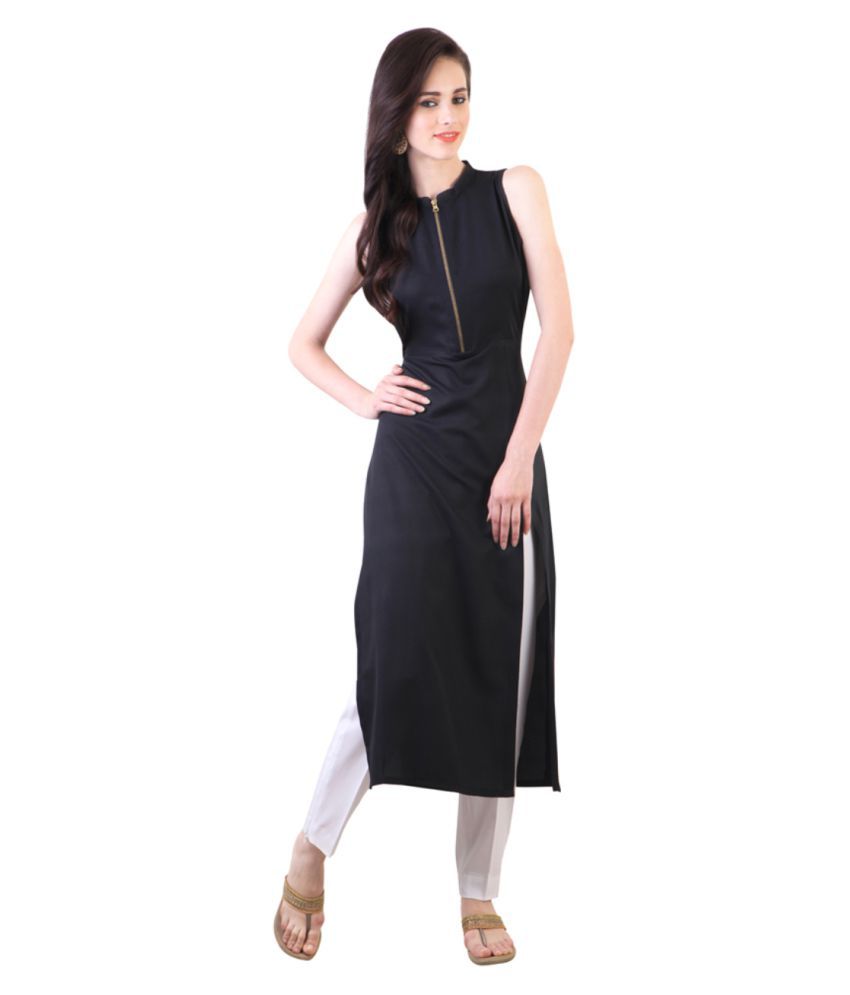 Long straight cut Kurti
You will see long straight cut Kurti in every woman's wardrobe. They are the most favorite style in Kurti. You can wear this elegant Kurti on any occasion and it will make you look stylish. They can be worn by women of all age groups and they can be worn in formal and informal settings as well. You can wear these Kurtis with palazzos, leggings, or full and ankle-length churidars. These kurtas actually blend both the tint of western-style along with merging the typical beauty that Indian clothes impregnate.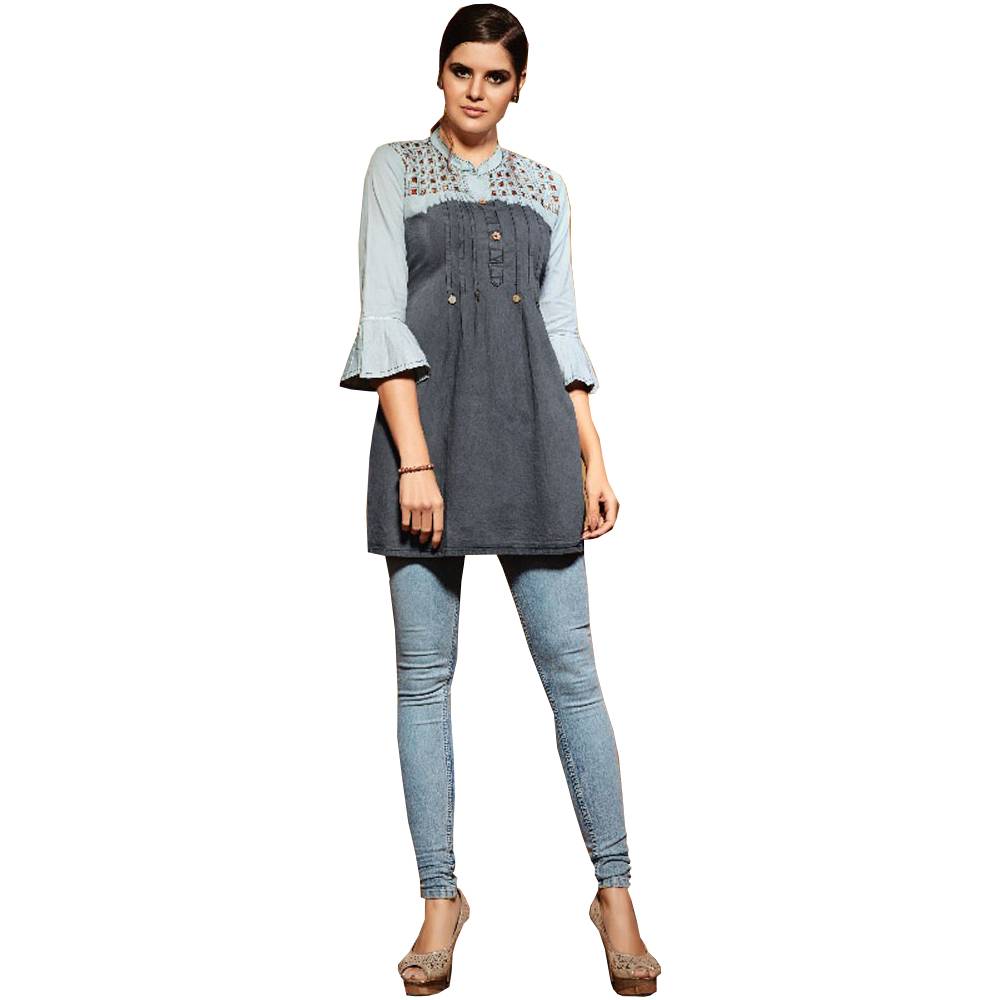 Short Kurti
Short Kurtis are also liked by teenage girls. Mostly short Kurtis are comfortable when they are available in cotton fabric. On the other hand, short kurtas for women can be paired up with jeans and flat slippers for a more low-key and laid-back daily wear look. For a semi-formal office look, they can be paired with jeans or trousers. This can also be easily achieved in day to day life by combining tight-fitting Kurtis in bright colors with printed Patiala or plain salwar. The final touch would be some funky oxidized jewelry and Indian jutis along with a jhola or Indian shoulder bag.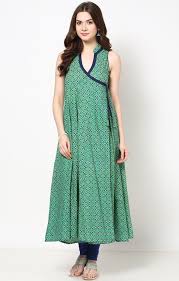 Angrakha Kurti
Another Kurti which is trendy in today's fashion world is Angrakha Kurti. Interestingly, Angrakha Kurti was worn by the musicians of the royal court in ancient times. This Kurta was worn like a jacket and has two similar flaps that lay on each other and are tied together at the side of the chest with the help of dori or straps. The dori of the Kurta has small pom-poms or tassel at the end to add more glamour to the attire. In the modern world, it is worn by women on a daily basis. They can wear it on any occasion or as a formal dress in their offices. This can be paired up with palazzos , skirts, or jeggings. This can be accessorized with slings, totes, potli bags and one can pair it up with apt jewels like dangle earrings or oxidized jewelry with kolhapuris for the complete funky look.  These Kurtis come in various fabrics like Chiffon, Georgette, Net, cotton, Chanderi, and silk-making it wearable in all seasons.